WoWInterface
(
https://www.wowinterface.com/forums/index.php
)
-
News
(
https://www.wowinterface.com/forums/forumdisplay.php?f=5
)
| | |
| --- | --- |
| Cairenn | 12-11-18 04:20 PM |
---
Update 8.1, Tides of Vengence, Patch Notes. 11 Dec 2018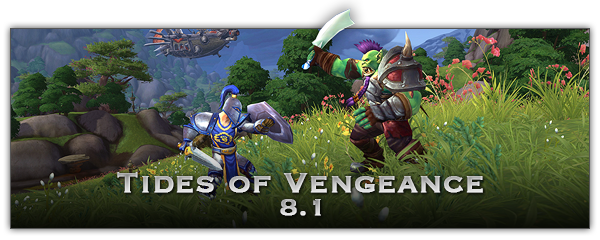 The war raging across Azeroth between Alliance and Horde has intensified. As the Alliance lays plans to retake Darkshore and regain a foothold in Kalimdor, both factions ha
War Campaign

New Questlines
New Missions
Faction Assaults
Warfront: The Battle for Darkshore
Heritage Armor Questlines
Island Expeditions
Dungeons and Raids
Achievements
Items and Rewards
New PvP Brawl: Cooking: Impossible
Battle Pets: There's Gnome Place Like Gnomeregan
User Interface
The flight maps in Eastern Kingdoms and Kalimdor have been updated to a higher resolution.
Reputation rewards from world quests and missions now use quality to indicate their potency.
Bag search will now help find new things including item quality, Azerite, specific Azerite traits, and stats appearing on an item.
Items which have stats that scale with your character's level (such as gems in the auction house) will now show their stats at the maximum value.
Pending summons now show on party/raid frames.
While the scrapper UI is open, scrappable items will be marked with an overlaid icon.
The location of the scrapper will now show on your minimap.
The Mythic Keystone Dungeon tab now shows the highest-level Mythic dungeon that was completed in time. Higher-level completions that were not in time are still stored and can be seen when mousing over a given dungeon in the interface.
Inbound and outbound blocks (both melee and ranged) will now show in floating combat text.
The responsiveness of the Communities UI has been improved.
Upcoming calendar events are now shown in Community chat.
Full patch notes
All times are GMT -6. The time now is

12:29 AM

.
vBulletin © 2020, Jelsoft Enterprises Ltd
© 2004 - 2020 MMOUI